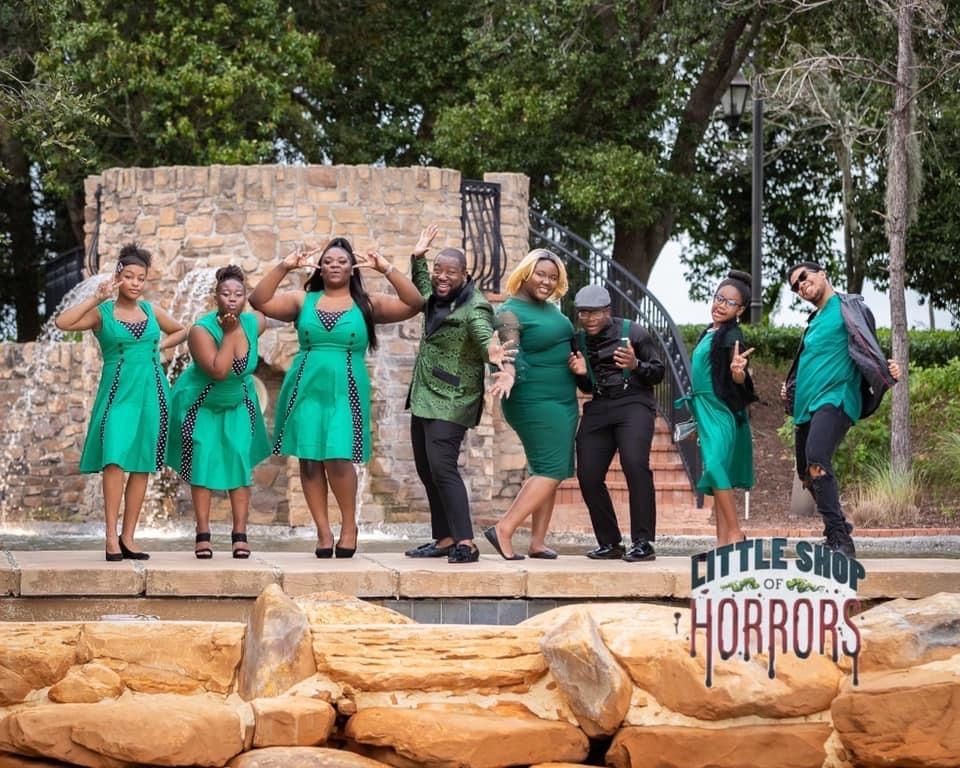 2019-2020 REPERTORY CAST: "Little Shop of Horrors", Musical Theatre, Photo by Bishop Dinham (L to R: Kyla M., Jewel J., Wadeline P., Mr. Billy W., Mya D., Raymond A., Cameron M., Jordan M.)
"People who are feeling bullied and people who feel like outsiders should talk to their parents and guardians about finding a place with like-minded people where they can feel accepted. That's what I needed, and that's what I found with musical theater." -Nick Jonas
REPERTORY PERFORMANCE CAST
Our Musical Theatre Program is a form of theatrical performance that combines songs, spoken dialogue, acting, and dance. Here at MP Arts, Inc. the story and emotional content of a musical – humor, pathos, love, anger – are communicated through the words, music, movement, and technical aspects of the entertainment as an integrated whole. Although musical theatre overlaps with other theatrical forms like opera and dance, it may be distinguished by the equal importance given to the music as compared with the dialogue, movement, and other elements. Since the early 20th century, musical theatre stage works have generally been called, simply, musicals.
Previous events
Musical Paintbrush After-school Program presents a very special Zoom Meeting showcasing the talents of our students!
 Wishing all of our returning students and teachers a very safe and happy 2020-2021 school year. Make this year the best school year thus far.
Come out and support the Youth, Cast, and Crew of Musical Paintbrush, Inc. as we participate in the 2020 Ft. Lauderdale KING PARADE! Beginning at 8 AM - 10:00 AM at Lincoln Park in Ft. Lauderdale. 
The MP South Florida Showcase 2019 was a total success!!! Congratulations to all of the 2019 Showcase Winners on a job well done! The entire Executive Board and Staff of the MusicalPaintbrush Production Company sincerely thanks you for your participation and attendance.