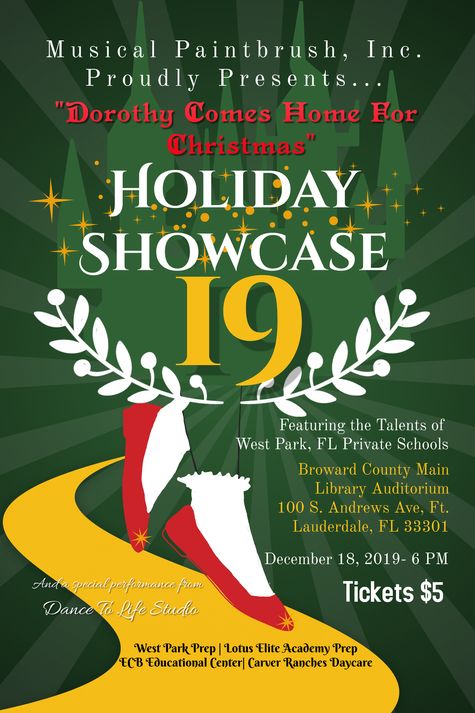 "Dorothy Comes Home For Christmas"
The MP South Florida Showcase is an annual showcase sponsored by the company to give exposure to local young talent in the community and to provide the opportunity for training and promotion for these young artists. The showcase provides a platform for the students to not only showcase their talents, but to grow as young performers, providing them with the opportunity to learn the audition process, prepare for live performances, and train with professionals in the company once they are chosen as a contestant. In addition to the contestant performances, this is the time when other local South Florida companies and studios come together to perform and create an awareness for the arts in our community. Please see the audition sub-tabs for more information on how to enter the Annual MP South Florida Showcase. 
Previous events
Musical Paintbrush After-school Program presents a very special Zoom Meeting showcasing the talents of our students!
 Wishing all of our returning students and teachers a very safe and happy 2020-2021 school year. Make this year the best school year thus far.
Come out and support the Youth, Cast, and Crew of Musical Paintbrush, Inc. as we participate in the 2020 Ft. Lauderdale KING PARADE! Beginning at 8 AM - 10:00 AM at Lincoln Park in Ft. Lauderdale. 
The MP South Florida Showcase 2019 was a total success!!! Congratulations to all of the 2019 Showcase Winners on a job well done! The entire Executive Board and Staff of the MusicalPaintbrush Production Company sincerely thanks you for your participation and attendance.