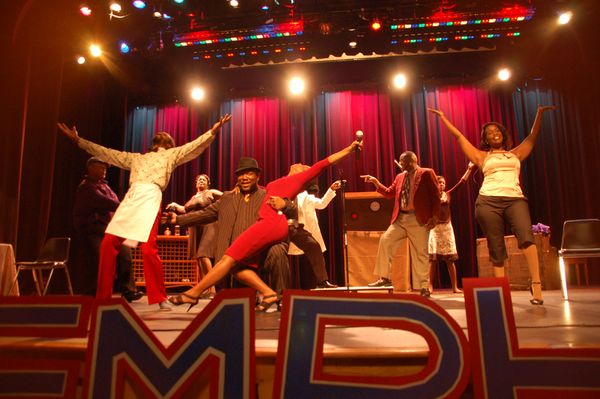 MP Showcase: Selections of Memphis, Musical Theatre (Photography by Dwayne Mills)
Audition Requirements for Repertory Performance Cast
Voice, Monologue, and Poetry Auditions:
1.  Perform one (1) musical theatre number, aria or song (two minutes or less) with accompaniment (see note below). 
2.  Perform a one-minute memorized monologue from a musical or theatre production or poem that is age-appropriate.
3.  Accompanists and/or CD player can be provided by the company if needed. *Be sure to give at least a one week advance notice if you need an accompanist. Bring music in the proper key as they will not transpose or improvise during the audition.
4. Spoken Word artists may perform (2) of your best pieces (one minute or less each).
NOTE:
• Songs and monologue must be memorized. Poems may be read but only from a journal book. 
• No original songs are permitted.
• Individuals auditioning must use an accompanist or accompaniment for both songs (CD format is preferred).
• Individuals may accompany themselves for the audition only if they bring their own instrument.
• Feel free to move during your musical theatre songs; however, please keep in mind that dancing during your songs is not recommended.
• Black & White Headshot (cut to 8"x10") and performance resume.
*All Musical Theatre acceptance decisions will be made after the last audition day
Previous events
Musical Paintbrush After-school Program presents a very special Zoom Meeting showcasing the talents of our students!
 Wishing all of our returning students and teachers a very safe and happy 2020-2021 school year. Make this year the best school year thus far.
Come out and support the Youth, Cast, and Crew of Musical Paintbrush, Inc. as we participate in the 2020 Ft. Lauderdale KING PARADE! Beginning at 8 AM - 10:00 AM at Lincoln Park in Ft. Lauderdale. 
The MP South Florida Showcase 2019 was a total success!!! Congratulations to all of the 2019 Showcase Winners on a job well done! The entire Executive Board and Staff of the MusicalPaintbrush Production Company sincerely thanks you for your participation and attendance.